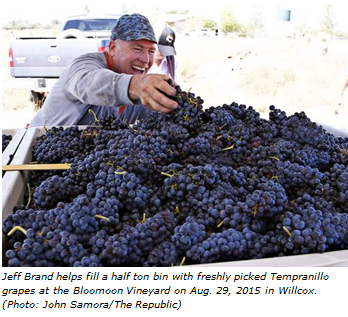 Victory for Arizona's Wineries!
April 1, 2016
FREE THE GRAPES BILL SIGNED BY GOVERNOR DUCEY TO BECOME LAW
SB1381, "Free the Grapes" direct wine shipping bill signed by Governor Ducey
will replace archaic law with winery visit penalty
PHOENIX, AZ –  Yesterday Governor Doug Ducey brought Arizona residents into the digital age by signing SB1381, which will allow wine consumers in Arizona to have wine shipped directly to their home or business from any licensed domestic winery, regardless of size and without requiring a visit to the winery. The Arizona State Legislature on Thursday, March 24, 2016 passed SB1381, commonly called the "Free the Grapes" bill on a 28-1-1 vote, Governor Ducey's signature was the last step to enacting the law.
The Arizona wine industry was supportive of the bill. Rod Keeling President of the Arizona Wine Growers Association was excited to hear the news and said, "This is a tremendous opportunity for the Arizona wine industry to progress and grow. We appreciate Senator Nancy Barto, Governor Doug Ducey and all those who worked so hard to see this bill become law."
Arizona consumers will be able to hav wine shipped directly to their home or business from any licensed winery in the United States; the first winery licenses should begin to be issued late fall 2016, no later than January 2017. The signing of SB1381 into law increases the case limit per winery to a graduated limit of six (6) cases in 2017, nine (9) cases in 2018, and finally twelve (12) cases in 2019 from any U.S. winery licensed to ship to Arizona without the burdensome "winery visit penalty".
The legislation was sponsored by Senator Nancy Barto (R-15) who expressed concern about the restriction on the rights of Arizona consumers to access products that residents of others states may easily, legally, and safely have delivered to their homes. Sen. Barto had this to say when asked what motivated her involvement in this movement, "Folks living in Arizona should have the same consumer abilities as those in other states. This law removes those barriers for Arizona wine consumers."
The "Free the Grapes" bill (SB1381) will replace an archaic law — shared by only three states — requiring Arizona consumers to be physically present at medium and large wineries prior to being able to order wine shipped directly to their home or business, and then they are presently limited to only two cases per year.  SB1381 removes the burdensome "winery visit penalty" and increase the limit on the number of cases an adult consumer could order annually.
The bill was supported by wine consumers, free market advocates, and a variety of Arizona residents who championed this cause based on the unfair restrictions that other states had removed. The campaign to "Free the Grapes" was an effort to free the restriction and was led by Arizona consumers.
Join Us in Protecting Arizona Businesses!

SIGN UP
Sign up for the latest updates & opportunities to get involved.